Complete Guide to Buying Bath Plumbing Faucets
May 14, 2020 | Starr Tingle
Today I'm giving you tips and knowledge for buying plumbing faucets for a bath remodel or if you are building a new home.  Faucets are a big-ticket item and something you are probably going to live with for a long time, so let me help you get it right!
This post is all about how to buy plumbing faucets for your bathroom remodel.
Where To Go 
I always, always, always recommend buying plumbing faucets for a bath remodel from your local plumbing supply house. The staff is much more knowledgeable, ensuring you'll get all the components you need, and more helpful than the big box stores. Also, the faucets you buy from a plumbing supply house are generally all brass components while the faucets purchased at big box stores have plastic parts that don't hold up well to daily use. You should also compare the warranty from the two places. I'm finding the warranty is better from a plumbing supply house too! (just put "local plumbing supply house" into your google search bar to find them)
My Opinion
Buy plumbing faucets and rough-in valves early, before you even start the demo on your old bath. Once work has begun, it is not the time to try to make decisions and purchase items.   
When you go to the supply house, know your budget for fixtures. Share that budget with your salesperson, they will work to help you stay within your budget.  
Delta Faucets are an excellent product. They have a great, easy to use warranty. Replacement parts are easy to find. The Delta faucets you buy at a plumbing supply house are not always the same as the ones you buy in a big box store. Buy them from your local plumbing supply house! I am not affiliated with Delta Faucets.  
Faucets come in many different finishes, but for me, chrome is the winner. It's classic, always in style, shiny, and most affordable!
Your sink faucet, shower faucet, and tub faucet should all be the same finish. Chrome, oil rubbed bronze, and stainless are some of the most popular finishes, but check out the new champagne bronze. It's lovely!
You don't have to select all your faucets from the same line. For example, in my own bathroom, I choose Delta's Dryden in a widespread sink faucet, but I have Cassidy in my shower.
Sink Faucets
In my video I talk about three different types of faucets:
Wide spread (8" from the center of the handle to the center of the other handle).  Easy to clean around and have a higher end look and feel to them.   Allow at least $200 per faucet for these in your estimate.
Cenerset ( 4" from the center of the handle to the center of the other handle). These are the devil to clean around, but the are the best price point.  Allow around $85 per faucet for these in your estimate.
Single hole.  This means the water temperature is adjusted with one handle on the side of the spout.  Easiest to clean around.  You would think these would be less expensive, but no.  Allow around $175 per faucet for these in your estimate.
Shower Faucets:
The single most important thing you need to know about your shower faucet is that it absolutely must be planned out before you begin, because:
 The correct valve has to be purchased to match your faucet trim.  The valve goes behind the tile, so if it is wrong, replacing it means tearing out tile.  
 The placement of control values, diverters, body sprays, handhelds, etc. can impact your tile design.
Master Shower
There are so, so many options for a luxury shower experience – really, the only limit is your pocketbook. The costs for super luxurious plumbing fixtures go beyond the fixtures. The more features you add increases the complexity of the plumbing system, which increases your plumbing labor. So just don't spend your budget on the fixtures, hold that same amount of money back for labor to install them. As a rule of thumb, I usually expect my materials and labor to cost the same.
Components to consider:
Raincan showerheads – either from the ceiling or an arm out of the wall. I have a raincan on a gooseneck arm, and I really love it.
Body sprays
Second shower head in the form of a handheld. I highly recommend this. It makes cleaning so much easier.  
I'm including a photo I swiped from Delta's website that contains those components. Just know you don't have to install them the same way in your shower. For example, the handheld can be on the opposite side of the shower, the body sprays can be on each side of the control valve or on the back wall, etc.
Guest or Hall Shower
For a shower that is not in the master bath, I recommend a very standard, easy set up like this:
A really nice feature is to switch out a standard showerhead for a dual functioning shower head/ handheld. It is excellent if you want to shower down little children, pets, or use it to rinse the walls down when cleaning.
Tub Faucets
You have three basic options for tub faucets, and the kind of tub you are planning for will largely determine the type of tub faucet you choose.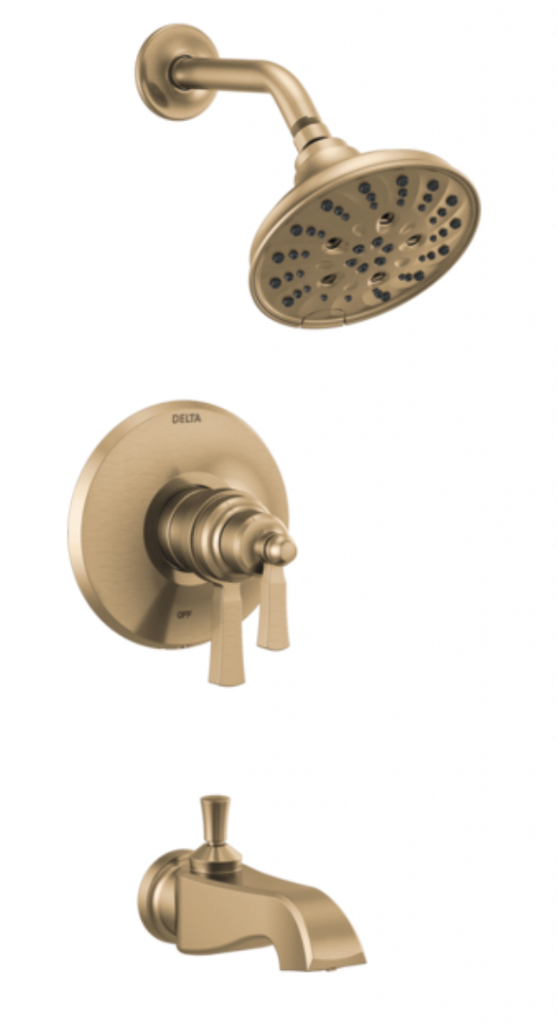 Or, if you are fortunate enough to have an alcove tub only, you can get a wall-mounted filler like this one! I sort of love this look right now, and in the champagne bronze finish, it is so boujee!
Deck mount.  A drop in tub has a platform with the faucet setting on the platform.  This faucet is referred to as a roman faucet.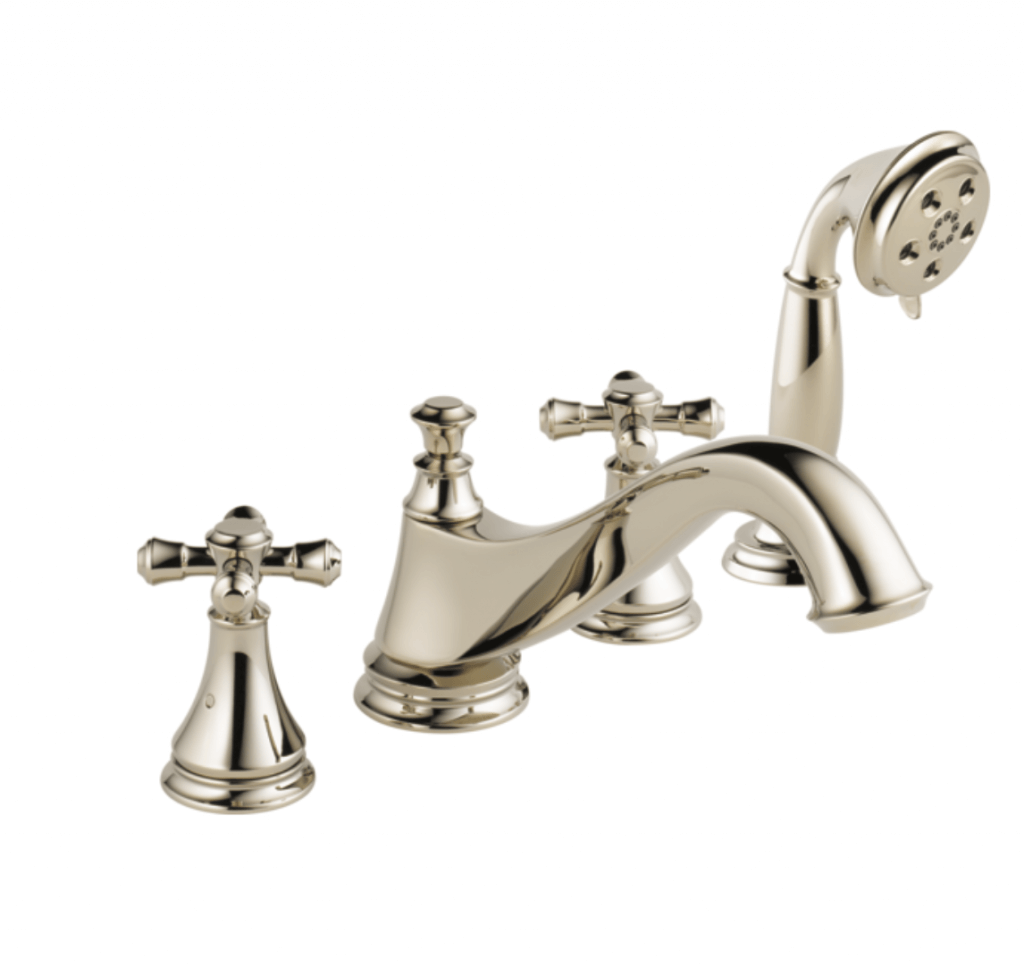 Free standing tubs are very popular right now!  The best looking faucet to marry with your free standing tub is floor mounted tub filler.  Here is a free standing tub we and floor mount filler we just installed: 
A second option for a free-standing tub if you are tight on space, or looking to economize, is to build a ledge and use a deck-mounted faucet. Here is a photo of one we did a few months ago:  
This post is all about buying plumbing faucets for your bathroom remodel.
Wrap Up
Okay! This almost wraps up my bathroom faucet tutorial! I have one more bit of advice: while I don't want you to buy your faucets online (remember, LOCAL. SUPPLY. HOUSE.), I do advise you window shop online. This will help you gather prices to estimate what your bathroom remodel will cost.
If you have questions about the cost of a bathroom remodel, take a look at this post where I broke down e v e r y t h i n g. 
In the past few weeks, I have looked at laying out a bathroom, bath vanities, and bath lighting.
Be sure to follow us on Facebook @Sanctuary Homes, Instagram at @sanctuaryhomes, and Pinterest at Sanctuary Homes. THANK YOU SO MUCH FOR YOUR TIME!! Chow for now!