3 Best Bath Vanity Mirrors
June 22, 2020 | Starr Tingle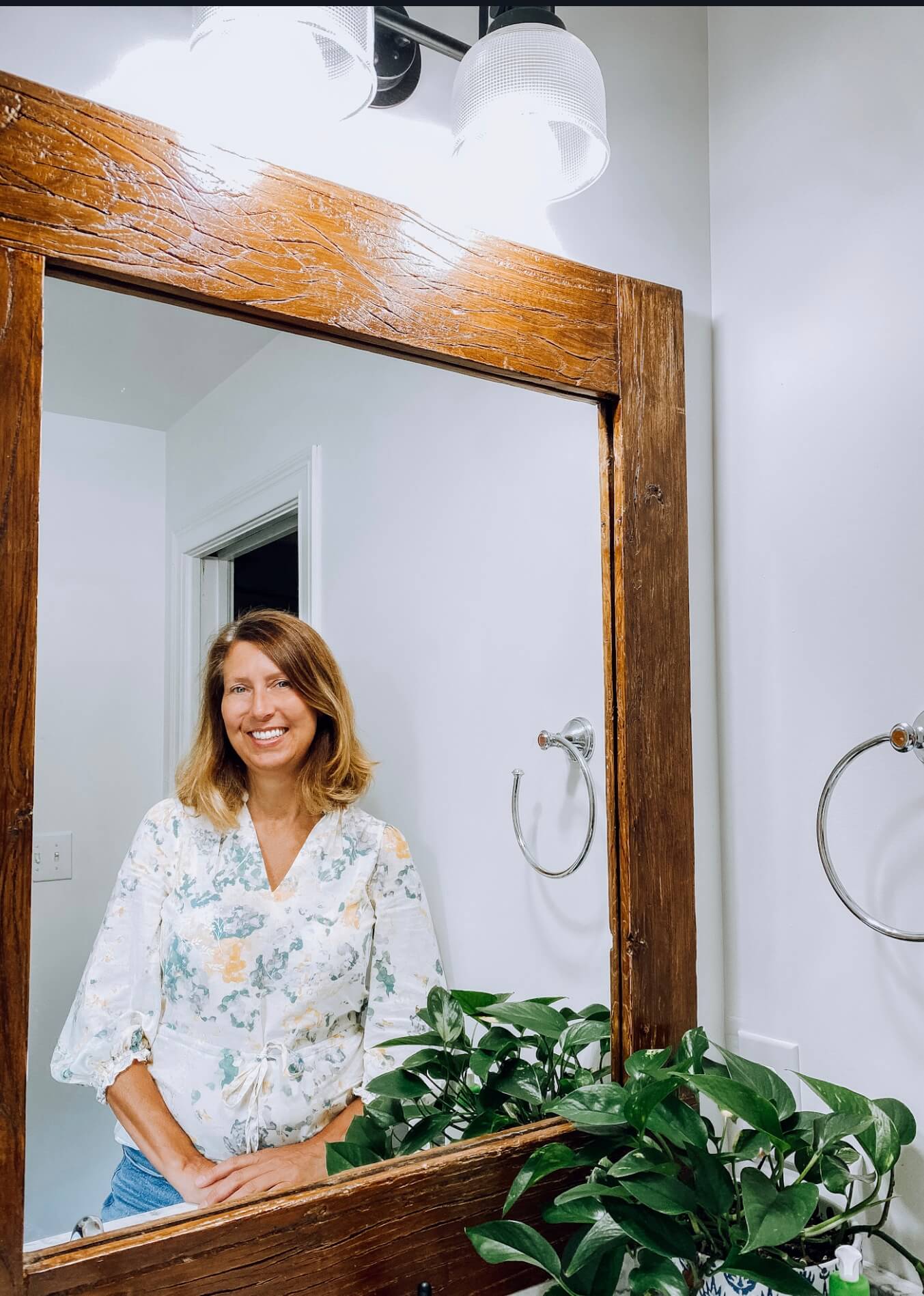 How are you going to look at yourself every day? The way I see it, you have three choices, plate glass mirrors, framed mirrors, and a cabinet hidden with a mirror (aka medicine cabinet). Let's debate which to use, shall we?!
This post is all about how to buy mirrors for your bathroom.
Plate Glass Mirrors
These have been used for years and are probably considered builder-grade because they are the least expensive choice. I like the fact that they are easy to clean and so large. You can see more than just your face because they typically rest on the backsplash – it's nice to be able to check out your outfit before walking out the door! A larger mirror can also lighten up a small space by reflecting the light.  
A trick that I like to use is to make the plate glass mirror really tall, up past your light fixture, and then mount the light to the mirror instead of the wall.
Where to buy:
If your mirror is large, I would google "plate glass + your city" and hire the experts to cut and install your plate glass mirror. It's glass…it is easily broken and very dangerous when broken. Totally worth the money to have experts, who have the correct tools (very strong suction cups) to handle the mirror.  
Special tip:  
If you are embarking on a remodel and want to remove an existing glass mirror, call the professionals. It can be very, very dangerous to take one down. They are glued to the wall with heavy mastic. Do not go in Chip Gains style and start batting at it with a hammer!!  
Framed Mirrors
Framed mirrors have been super popular in the past few years. However, I am seeing many more designers going back to plate glass, probably for the reasons I listed above. I really like it when my custom cabinet company makes a mirror to match the vanity cabinet; that is a really customized look – well, because it is customized! It looks like this:
The other option for framed mirrors is to buy something off the shelf that doesn't match your vanity cabinets but compliments the bathroom. Like this:
Take a look at these metal framed mirrors and wooden framed mirrors to get an idea of the breadth of options available:
Where to buy:
So many places! Online I've found a good selection at Wayfair, Build.com, Pottery Barn, and Amazon. Locally, I've seen them at Home Depot and Lowes. Double-check your measurements before you order to buy!
Medicine Cabinet
Surprisingly, there are a lot of options available! (I searched "Medicine Cabinet" on Wayfair and turned up 1,176 results!) Some are framed; you wouldn't even know there is a medicine cabinet behind them, like this:
Others are larger and not framed, more, I think, to mimic the look of a plate glass mirror. These have a ton of storage space!! Take a look at this one I found on Wayfair. 
Don't underestimate the storage space you gain from a medicine cabinet. I have very little storage in my bathroom. I feel like my medicine cabinet has made what would be a frustrating situation into a totally okay situation. So please, give medicine cabinets a hard look!
Where to buy:
There are some great options on Wayfair, Build.com, and Pottery Barn, to name a few!  
Special Tip: 
Medicine cabinets are, for the most part, recessed into the wall. There are a few surface mount. Be careful about this when you order – make sure you know what you are getting to avoid frustration and delays because you didn't order the right thing.  
If you want a recessed cabinet (you do, trust me), YOU NEED TO ORDER IT AND HAVE IT ON HAND BEFORE YOU START DEMO. This may seem excessive, but when you finish the demo, you need to frame for your recessed mirror. It most likely will not fit between the studs.  
Super Special Tip:
If your recessed medicine cabinet is going on an exterior wall of your home, you really should double frame the wall. That means you will need to frame up a second wall inside the existing wall. You don't want to cut into the exterior wall of your home for two reasons: first, it could be a load-bearing wall, in which case it would need to be headered off properly. Second, you don't want to remove the insulation in your exterior wall. I actually have two recessed medicine cabinets on an exterior wall of my home, so we double framed the wall.  
This post is all about how to buy mirrors for your bathroom.
Wrap Up
I hope I have armed you with enough information to make the right buying decision on your bathroom mirrors. I'm committed to educating homeowners and helping them love the process of remodeling their home. I believe taking the time to learn about the bathroom components will make your rebuild go faster, smoother, and help keep costs down. If you have a specific remodel question, send me an email at Starr (at) starrtingle.com. I would love to help you out!
Be sure to follow me on Facebook @Sanctuary Homes, Instagram at @sanctuaryhomes, and Pinterest at Sanctuary Homes. THANK YOU SO MUCH FOR YOUR TIME!! Chow for now!